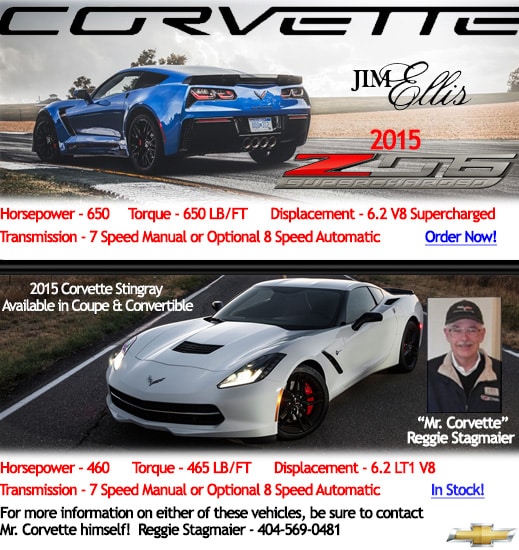 -------------------------------------------------------------------------------------------------------------------------------------------------------------------
Jim Ellis is Corvette Central in Georgia!
Your home for the 2015 STINGRAY!
First named the 2014 North American Car of the Year and from there, the accolades have continued to accumulate for the all-new Corvette C7!  And for 2015, with the introduction of the Corvette Z06, the all-new eight-speed automatic, the Performance Data Recorder option, the OnStar with 4G LTE hotspot feature, and two new design packages, it is no doubt the awards will keep coming.
Where are you going to get yours?  How about from the dealer that who has spent years fully immersed in Corvette culture?  A Corvette is a sizeable investment - a fulfilling one - if you choose the right dealer to purchase it from. We suggest you choose the dealer that is one that is one of the largest retailers of the all-new C7 Stingray in the nation: Jim Ellis Chevrolet!
The right dealer includes: 1.Reggie Stagmaier, Jim Ellis Chevrolet's leading Corvette expert that has been catering to Corvette enthusiasts for over thirty years!  2. Mark Frost, General Manager, a member of Chevrolet's National Performance Car (Corvette and Camaro) Advisory Board.  3. Elite Corvette-certified technicians who know Corvettes inside and out. 4. An extensive, experienced support staff, - including Accessories Manager Tony Brown.  Add it up and Jim Ellis Chevrolet has the team to help you make your Corvette ownership experience the best it can be!
The Jim Ellis Chevrolet Corvette Center is also involved in many other aspects of the Corvette culture. For example, the Jim Ellis Chevrolet Corvette Center facilitated the complete restoration of a 1969 Corvette that was featured in four issues of the national publication Vette Magazine. Also, for many years, Jim Ellis Chevrolet has sponsored one of the region's premier Corvette owners' clubs, Corvette Atlanta and the many events hosted by the club.
We know ownerships starts with getting a good price!  Check out the prices below and give Reggie a call. If you don't see what you want, let Reggie know.  He can either get it elsewhere or build a custom-ordered Corvette just for you!  We guarantee you'll enjoy conversing about all things Corvette with one of the Southeast's leading Corvette experts!