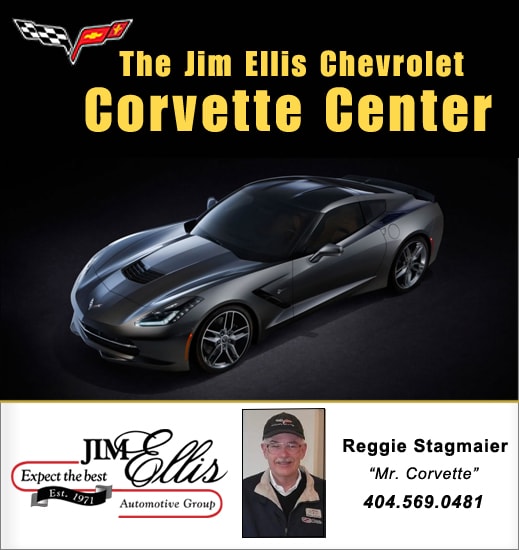 -------------------------------------------------------------------------------------------------------------------------------------------------------------------

Jim Ellis is Corvette Central in Georgia!
Chevrolet Corvette - America's iconic sports car - unmatched and unequalled!  Where are you going to get yours?  How about from the dealer that who has spent years fully immersed in Corvette culture?  A Corvette is a sizeable investment - a fulfilling one - if you choose the right dealer to purchase it from.  How about one that is one of the largest retailers of the all-new C7 Stingray in the nation?!
 "The other morning, I was at the gym. There was a Lamborghini Gallardo, Porsche 911, Nissan GTR, and a red 2014 C7 Corvette Stingray with the Z51 package in the parking lot.  Everyone was gathered around the 'Vette.  The others seemed somewhat pedestrian in comparison." - Jeremy H.
 There are many dealers that stock a number of Corvettes, put a shingle out front, and call themselves a "Corvette Dealer."  It takes much more than that and most importantly, it's all about the people. 
Reggie Stagmaier, Jim Ellis Chevrolet's leading Corvette expert, has been catering to Corvette enthusiasts for over thirty years!  And master technician David Jones is widely known as one of the most foremost Corvette mechanical experts in the Southeast. Mark Frost, General Manager, is on Chevrolet's National Performance Car (Corvette and Camaro) Advisory Board.  These Corvette leaders at Jim Ellis Chevrolet, as well as an extensive, experienced support staff, are your insurance policy that your Corvette ownership will be all it can be!
The Jim Ellis Chevrolet Corvette Center is involved in many other aspects of the Corvette culture. For example, the Jim Ellis Chevrolet Corvette Center facilitated the complete restoration of a 1969 Corvette that was featured in four issues of the national publication Vette Magazine. Also, for many years, Jim Ellis Chevrolet has sponsored one of the region's premier Corvette owners' clubs, Corvette Atlanta. Ongoing Corvette-related events culminate in the Spring Corvette Show at Jim Ellis Chevrolet!
We know ownerships starts with getting a good price!  Check out the prices below and do yourself a favor and call Reggie. We guarantee you'll enjoy conversing about all things Corvette with one of the best-known experts!