Jim Ellis Chevrolet Receives 25 Year Award
2016-08-10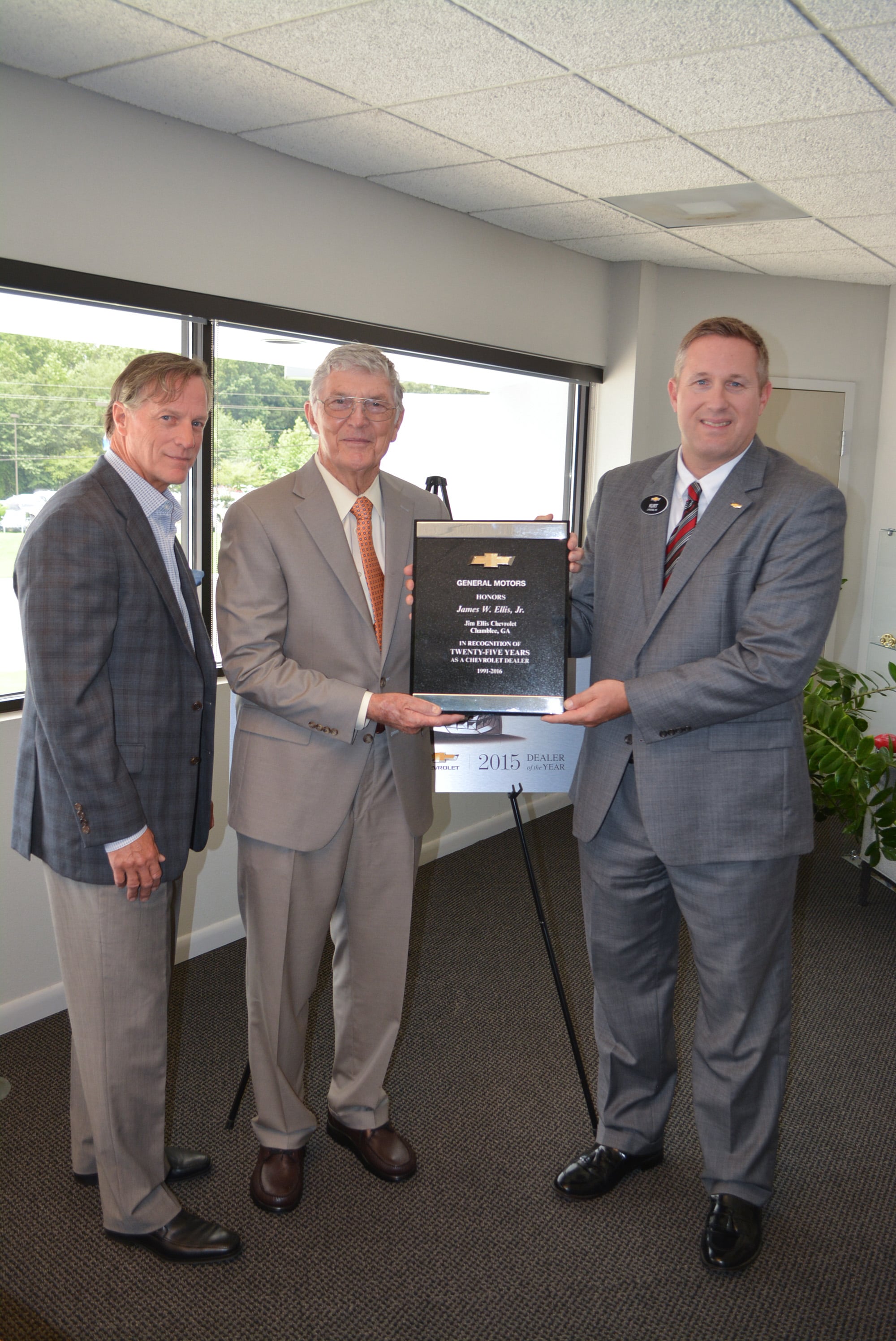 Atlanta Chevrolet Zone Manager Kurt Neubrecht (R) recognizes Chairman Jim Ellis (C) and President Jimmy Ellis (L) for 25 Years as a Chevrolet Dealer.  Jim Ellis Automotive was founded in 1971 and operates 13 dealerships in the Atlanta Metro Area. Jim Ellis Chevrolet was also awarded the prestigious "Dealer of the Year" trophy again for 2015.
Jim Ellis Chevrolet 2015 Dealer Of The Year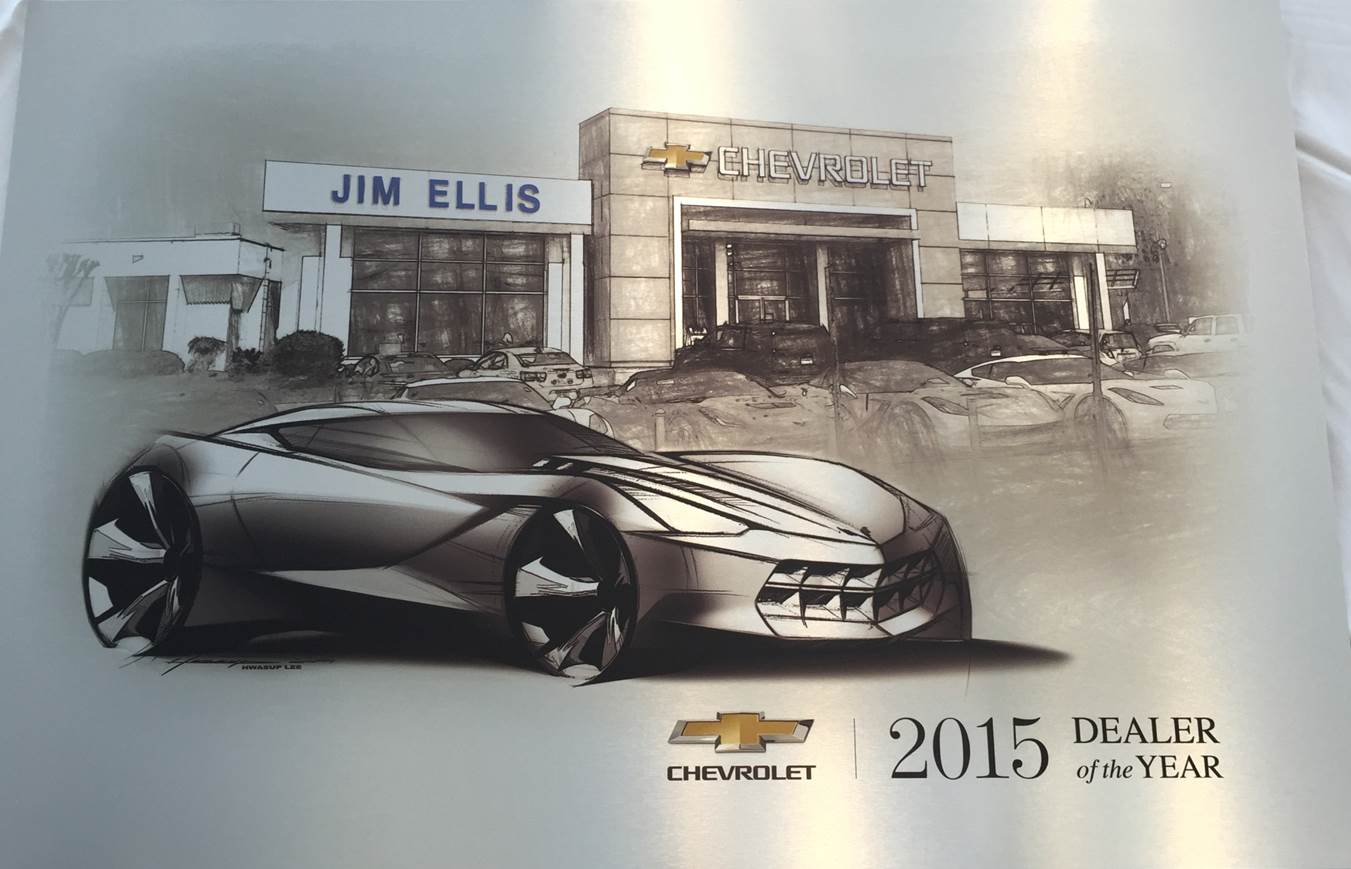 Jim Ellis Chevrolet Supports Our Schools
2014-09-17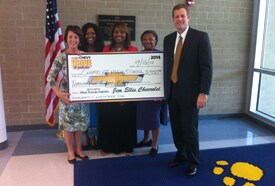 ATLANTA -Jim Ellis Chevrolet General Manager (far right) presents Chamblee High School with a check for $2,550 for 'Chevy Drive for Perfection (CD4P).'  CD4P is a program that promotes the necessity of close-to-perfect attendance to be an academic high-achiever in high school. Jim Ellis Chevrolet partners with another area high school, Dunwoody High School, and received a similar check.  CD4P is just one of the many programs that Jim Ellis Chevrolet supports to be partners with area schools and athletic programs. 
Do you like our pink?
2014-09-17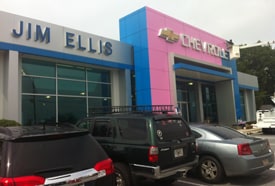 ATLANTA -Jim Ellis Chevrolet is getting ready for Chevrolet's 'Making Strides Against Breast Cancer' campaign in October.  The campaign includes a fundraiser where consumers can go to their local Chevrolet and take test drives.  Each test drive contributes $10 from the dealership and $10 from Chevrolet for the cause. Jim Ellis Chevrolet's General Manager Mark Frost got the idea for this from a rendering they are using for the campaign where they photo-shopped the front of a Chevrolet dealership in pink.  Jim Ellis Chevrolet decided to do it for real as an overwhelming show of support.
We LOVE our Veterans at Jim Ellis Chevrolet





Chevrolet Sweeps 2014 North American Car and Truck Of The Year Awards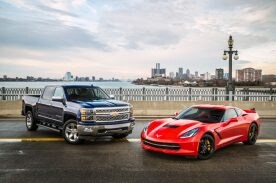 DETROIT - The all-new Chevrolet Corvette Stingray and Silverado 1500 are the 2014 North American Car and Truck of the Year.   
It is the first time Chevrolet has won both awards in the same year. The Silverado was last named Truck of the Year in 2007 and the Corvette was last named Car of the Year in 1998.
"Chevrolet is in the midst of the most aggressive product transformation in the brand's more than 100-year history," said Alan Batey, General Motors senior vice president, Global Chevrolet. "The Corvette and Silverado truly embody the passion, commitment and focus that is driving us to deliver the most expressive designs, innovative technologies and engaging performance in every vehicle that wears the bowtie,"
The Corvette received 211 points topping the Mazda3 with 185 points and the Cadillac CTS with 94 points. The Silverado received 219 points to the Jeep Cherokee with 174 points and the Acura MDX with 97 points.
Presentation of the North American Car and Truck of the Year awards open media days each year at the North American International Auto Show in Detroit. Forty-nine automotive journalists from the United States and Canada vote to recognize the most outstanding vehicles of the year based on factors including innovation, design, safety, handling, driver satisfaction and value for the dollar.
The new Corvette Stingray is the most powerful standard model ever, with 455 horsepower and 460 lb-ft of torque from a 6.2L V-8 engine - and 460 horsepower /465 lb-ft with the available performance exhaust system - enabling models with the available Z51 Performance Package to sprint from 0-60 in 3.8 seconds.
Silverado's available 5.3L EcoTec3 V-8 generates 355 horsepower for confident towing and hauling, yet seamlessly switches to four cylinders to save fuel during light-load driving. With an EPA estimated highway fuel economy of up to 23 mpg, Silverado offers the best fuel economy of any V-8 pickup.
"It is a distinct honor for the entire Chevrolet team to have both the Corvette and Silverado recognized with the prestigious North American Car and Truck of the Year Awards," Batey said.
About Chevrolet
Founded in 1911 in Detroit, Chevrolet is now one of the world's largest car brands, doing business in more than 140 countries and selling more than 4.9 million cars and trucks a year. Chevrolet provides customers with fuel-efficient vehicles that feature spirited performance, expressive design, and high quality. More information on Chevrolet models can be found at www.chevrolet.com.